Page 6 of 6 •

1, 2, 3, 4, 5, 6
Dude I was planning on doing the same exact thing, 7mgtes are beasts in their own right. Why am I so far behind -_-
Anyways Driftmotion has your back



Posts

: 13


Join date

: 2013-11-20



Driving to work today I noticed several dummy lights on the dash were lit up. Battery, brake, and the tail light bulb outage warning lights were all lit up. Tested my alternator at work and it's putting out precisely one amp. I have ordered a Denso reman unit from RockAuto, and will probably order a voltage regulator and brushes to rebuild the old one to keep as a spare.
Holy Crap dude , Love the wagon look forward to seeing your progress with the 7M!



Posts

: 15


Join date

: 2013-03-02



I've been concerned that the rear axle limit straps might pull through the floor of the car, so I added some reinforcement with some scrap steel I had laying around just for my own peace of mind.
Disclaimer: that's totally NOT a stop sign.....>_> <_< >_>
So my radiator sprung a leak and I decided to upgrade.
I got the old radiator out, as well as the AC condenser and lines, and got the new radiator in. It's a aluminum unit for a MK3 Supra Turbo (found it for only like $20 more than a new stock replacement).
Due to the fact that this thing is like twice as thick as the stock radiator, my awesome Volvo electric fan setup won't clear the pulleys on the engine. I'm going to shop around for a new fan and see what I can find.
I also plan to use either sheet metal or coroplast to properly duct the radiator, and maybe re-position my oil cooler to get more airflow, as well as adding a power steering cooler. This thing is gonna have one hell of a cooling system.
So Friday night I'm driving my girlfriend home after a movie with some friends and notice that the rear window is getting wet, but it's not raining. I pull into a gas station and notice that the car is puking coolant from somewhere under the intake manifold. Even though the flashing "Open" sign was on, the station was actually closed, as was the station next door. After running across the 4-lane road to another station (keep in mind it's about 12*F at this point) I was able to buy a few gallons of coolant. Upon removing the radiator cap, it promptly exploded straight up about 10' in the air due to hot air pressure in the mostly-empty system. I ended up being able to limp it home by stopping every 15 minutes or so (my girlfriend and I live an hour apart) to top off the coolant.
It looks like there are two oddly-shaped coolant lines, and one big hose that run under/through the manifold. One of the smaller lines was definitely leaking, but I'm going to replace all of them in one go, since the intake manifold had to come off to do it.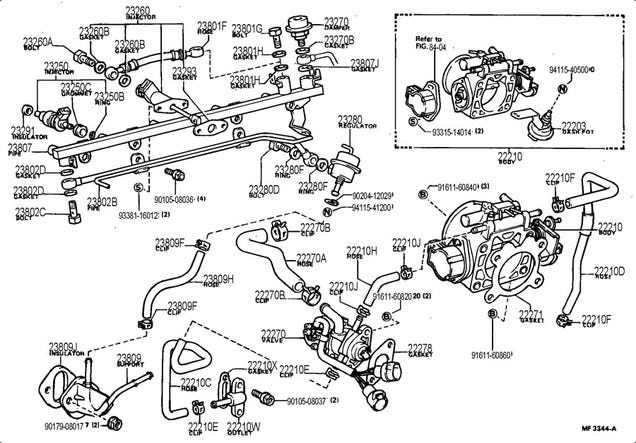 22210C and 22210D are the crazy looking hoses of which I spoke.
3/24/15
Car has been running and coolant-leak-free for a while now. The hoses were wrong, so I ended up using regular hose and routing them differently.
I dislike my current fan setup, as there is no shroud. I got my hands on a Mishimoto dual fan + shroud setup for a MA70 Supra which should bolt up to the aluminum MA70 radiator. The car has not been overheating with my current setup, but I don't think the whole fan-ziptied-directly-to-the-radiator thing would work out well in the summer. Plus having those ties is not good for the rad itself.
3/26/15
Fans are in. Bolted right up. I had to relocate the coolant overflow in front of the rad instead of behind it, but I just modified the bracket and bolted it up, and ran a longer hose. MK3 Supra style, yo. I also had to modify the wiring to accommodate the extra fan, and the studs/nuts holding the water pump pulley on were getting just a hair too close for comfort, so those were removed and replaced with bolts instead. All better.
3/31/15
When I was in a huge crunch to throw the brakes together on this thing a year and a half ago, I ordered bottom-barrel cheap crap off of RockAuto just to get the car on the road. Well now it's still working, but damn is it the squeakiest, most obnoxious noisy brakes I've ever heard on a car that still had some meat on the pads. Also, I'm pretty sure the rear brakes are barely doing anything due to the drum-style proportioning valve. SO I'm ordering semi-loaded front calipers (include brackets) and rotors for an 87 Cressida Sedan, and a set of new ceramic pads. These are a bolt-on big(ger) brake setup and should still fit under my Celi-Supra wheels. I'll just have to trim the dust shield a bit.
Here's a side-by-side for comparison (not my pics)
I'm also going to gut the proportioning valve to give some more power to the rear discs. This worked extremely well in the MR2, and I think it should also yield good results in this car.
86+ sedan brakes are on. They're a solid inch bigger in diameter. I had to remove the dust shields, though I may end up trimming them and reinstalling them later.
The main issue right now is that my 14" CelicaSupra P-type wheels just barely hit them. I'm going to grab a 1/4" spacer today and see if that will fix it.
4/14/15
Spacers worked, wheels fit over brakes.
The spedometer cable, much like the transmission, is from a non-turbo MA70 Supra non-turbo. That means there is a "long" section that goes from the cluster to down by the trans. Then there is a "short" more flexible section that's only like 8" long to connect to a 90* fitting that then attaches to the trans. The way I used to have the cable routed, the short section of the cable was contacting the exhaust and melted inside. This caused the plastic driven gear in the transmission to get stripped.
I replaced the gear and re-routed the cable and now my speedo works!
6/10/15
While I was on vacation my friends "stole" the car and surprised me when I got back by having gone over the whole car multiple times and polishing this turd as best as it can possibly be polished! It looks so much better now!
Hood before:
Hood after:
Roof before:
Roof after:
Hatch before:
Hatch after:
Tail lights before:
Tail lights after:
And we went out and took some cool night pictures later that night
The rear brakes have been squealing for a while now, and the right rear caliper was leaking fluid from the ebrake crank. Rather than bleeding the whole system twice I took the opportunity to gut the proportioning valve so the rear disc brakes can finally start doing their fair share of work, as the stock part was valved for having the old drums.
After doing this, the rear brakes were INSANELY loud. Like feeling the howling through the pedal, blow out your ear drums because of the resonance loud. I suspect this was due to the pads not bedding in properly from under-use from the prop valve. A new set of better quality pads and lubricated caliper slide pins later, and the car stops perfectly and silently.
Page 6 of 6 •

1, 2, 3, 4, 5, 6
---
Permissions in this forum:
You
cannot
reply to topics in this forum